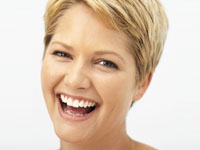 An attractive new smile from Greenbelt cosmetic dentistry at Zebrowski Dental Care can change your social life and improve your self-confidence.
If you have gaps between your teeth, a cracked tooth or other cosmetic problems, we can help. Ask us about veneers and teeth whitening and how we can maximize your dental insurance. We also provide teeth whitening, braces and dental implants.
Let's have a conversation about whether natural-looking veneers, dental crowns, or other aesthetic solutions are right for you. They can transform your tooth discoloration or damaged teeth into a stunning smile.
Make an appointment right away for Greenbelt cosmetic dentistry with Dr. Zebrowski, by calling our congenial staff at (301) 552-4488 or by filling out our online form. And please be sure to ask all the questions you want. We want you to have the dazzling, beautiful teeth of your dreams!
If you're looking for a highly-trained cosmetic dentist in Greenbelt you've come to the right place. Dr. Zebrowski offers cosmetic dentistry that Greenbelt residents have come to trust for the highest quality dental care.